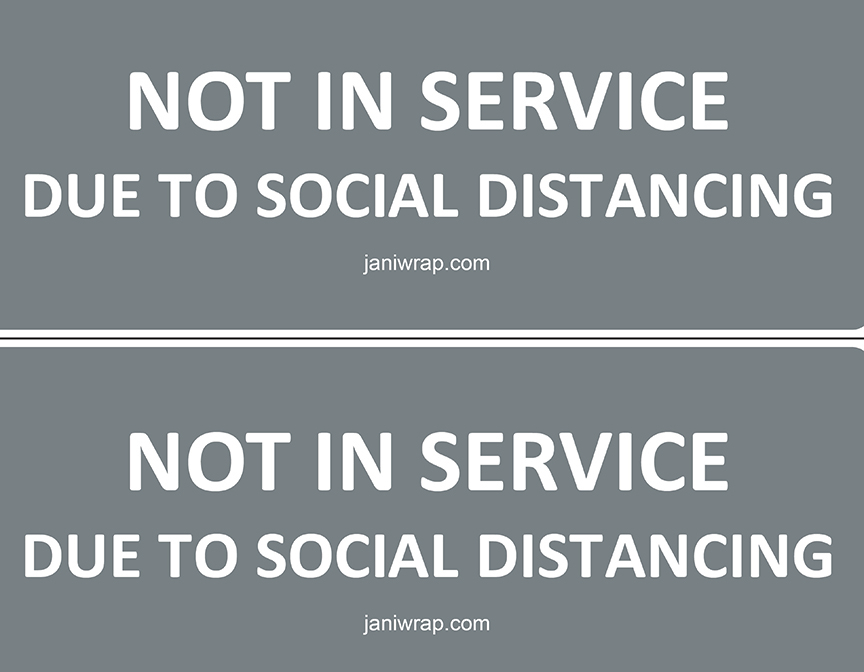 Out of Order Labels for Social Distancing

 
It's with pleasure that JaniWrap offers a new vinyl sticker that notifies visitors that a restroom fixture has been removed from service to aid in physical distancing in accordance with CDC recommendations.
Not all stickers are created equal.  Some are especially annoying and require a blowtorch, soap and razor knife to remove – like discount store price tags! These oversized yet discerning labels are made to be easily removed without leaving any adhesive behind – they can even be reused.  
JaniWrap Out of Order Fixture Covers are best in class – in fact, we invented the class. 
However, there are circumstances where a cover may be overkill and/or detract from the surrounding aesthetics (think sinks and drinking fountains) and a Not In Service Due To Social Distancing sticker may be the preferred method of removing a wash basin or water filling station from service.
These versatile decals are also effective on toilet stall doors, vending machines, and workstations just to name a few. 
They are large but not too large at 2.6 x 6 inches and the pewter gray color with white lettering displays beautifully in most environments.  
They come 4 stickers per sheet and are value priced.  We're so excited about these stickers that we've been including a complimentary sheet of them with every JaniWrap order – we just want everyone to have these in their COVID-19 tool chest so they are immediately available for use when the need arises.
Now that you know all about the wonderful characteristics of JaniWrap Not In Service Due To Social Distancing labels and where they can be used, we want to leave you with a good solution to removing those irritating labels glued on like they actually hold the product together: How To Remove Those Annoying Price Stickers In One Quick Peel.
Stay safe, be healthy, help others, and spread the love in a world needing its joy…  
"Don't hand out compliments like $100 bills – they're free and they're worth more!"
Out of Order Labels for Social Distancing
JaniWrap Out of Order Urinal Covers. 
Keeping Restrooms Beautiful.
We ensure your restrooms appearance is not compromised when a urinal or toilet needs to be removed from service.