. . . . . .
     Out of Order Fixture Covers
.
Keeping Restrooms Beautiful
.
JANIWRAP OUT OF ORDER FIXTURE COVERS
We extend our heartfelt and sincere best wishes to ALL who have been impacted by the virus pandemic.
Stay safe, stay healthy, and help those in need as we all work to overcome this global challenge.  
Professional Temporary Out-of-Order Urinal,Toilet and Sink Covers 
JaniWrap
V3.0 IS NOW AVAILABLE!
2 Additional Applications per Roll 
Adhesive Rolled Inside (no more sticky outside roll)
Greater Opacity and Thicker Film Too!
NOW EVEN EASIER TO APPLY… Simply Beautiful!
JaniWrap  Kit

32 Covers per Roll
Each Cover 20″w x 28″ l
32 Not In Service Labels
Labels To Use Where Needed / vending, drinking fountains, sinks
JW Kit Comes In Its Own Durable Storage Case
Fits Urinals & Toilets
Easy to Apply / Stays In Place / Releases Clean

NOTE: JaniWrap Covers are designed to adhere to Porcelain toilets and urinals.

  JW Covers are not for use on metal or other substrate toilet or sink fixtures.
JaniWrap
WHERE BEAUTY MEETS VALUE
$1.87 Per Application
 *** Custom labels with corporate logos, choice of message, fonts, colors,
and text in any language are available upon request. ***
SOCIAL DISTANCING
JANIWRAP CONFIDENCE
Beautiful and Effective
In closer quarter spaces like restrooms, JaniWrap is the best solution when removing a toilet or urinal from service to promote physical distancing in accordance with CDC recommendations.
 JaniWrap Covers retain the aesthetics of today's contemporary restrooms and Not In Service Due To Social Distancing labels notify visitors in a discerning way the fixture is closed for health and safety.
JaniWrap Covers stay in place long-term and release easily when no longer needed. 
The virtual world is great as far as it goes, but social interaction is an integral part of being human. 
JaniWrap makes it possible to retain our humanity in compact environments.
Brushed Aluminum Not In Service Signs
Invention of the Temporary Out-of-Order Toilet and Urinal Covers   The early days of JaniWrap Out of Order Urinal and Toilet Covers were more research and development than order fulfillment and shipping.  The evolution from the original flat pad of covers to...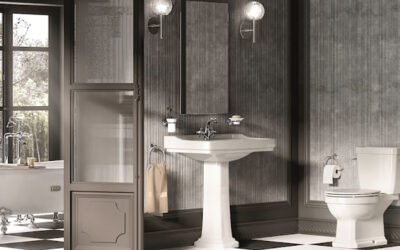 "Why are Toilets, Sinks and Urinals Made of Porcelain?" Guest blog by John Tarr. Bathroom fixtures need to be sturdy, waterproof, and in the case of a toilet and urinal, designed to be a flushing engine.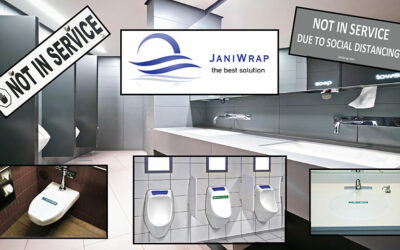 "Public Restrooms Virus Free" How to protect public bathrooms against viruses with paint and spray. Temporary covers for broken Toilet, Urinal and Sink covers is JaniWrap.
Summary
Service Type
Out of Order Fixture Covers
Provider Name
Area
Description
We sell Professional Temporary Out-of-Order Urinal, Toilet and Sink Covers for public washrooms as well as Quiet Casters (wheels) for Trash Dollies.